For years, many luxury brands have resisted selling on Amazon for a simple reason: They desire an exclusive, brand-controlled shopping experience, and Amazon's lawless, Wild-West approach to shopping hasn't been conducive.
But that may change, forcibly, thanks to a December 22 preliminary ruling in a lawsuit brought against Amazon by Christian Louboutin. The suit, which was originally raised in 2019, alleges that Amazon should be liable for the surfeit of sponsored posts for knockoff Louboutin shoes, complete with the brand's trademarked red soles. Even now, searching "Christian Louboutin" on Amazon shows dozens of sponsored listings from other brands either selling red-soled shoes or selling red soles to put onto existing shoes.
This has been a known issue for years. In 2020, Glossy reported that searching "Gucci" on Amazon would bring up dozens of sponsored products with Gucci signatures like red-and-green stripes or a large G logo. That remains true today, but changes may be around the corner.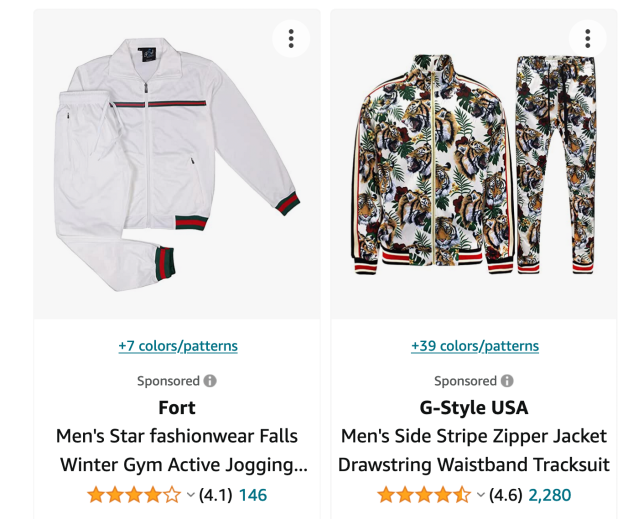 The suit, brought in Belgium and Luxembourg, is still being decided by E.U. courts. But a preliminary ruling seems to indicate that the court is sympathetic to the idea that Amazon should be responsible for what advertisers put on its platform. The Belgian and Luxembourgian courts had sought guidance from the Court of Justice of the European Union, the E.U.'s top court, which decided in Louboutin's favor. This clears a path for the two national courts to uphold Louboutin's claims.
"We will study the Court's decision," an Amazon spokesperson said. "Amazon makes it clear to customers who they are buying from when they are shopping in our stores by displaying seller information."
Louboutin is not seeking monetary compensation, only for Amazon to end counterfeiting. If the court rules in favor of the brand, Amazon would have to change how it handles keyword advertising, which currently allows the use of other brands' names as targeted keywords. This practice is known as ad hijacking or brand poaching.
Mike Sweeney, legal counsel at the anti-counterfeting tech company Incopro, said that, typically, Amazon and similar marketplaces are able to skirt trademark infringement rules. That's because safe harbor provisions often protect marketplaces from liability for the actions taken by sellers on that marketplace. In other words, Amazon isn't responsible if a seller infringes on a luxury brand's copyright on Amazon's store.
"That is changing, though, especially in Europe," Sweeney said. "There have been judicial determinations in some countries, especially Belgium, where platforms have said, 'It's not our fault, talk to the seller.' But there's a been a shift in Europe toward saying 'No, the platform has liability here too.'"