As beauty brands get deeper into the gaming world, Roblox is the latest game they're setting their sights on.
With Y2K-meets-e-girl style and a love for all things pink, Leah Ashe is a source of beauty inspiration for her 4.9 million followers on YouTube and 4 million on TikTok. Like many influencers, she sells her own line of products to emulate her signature looks — for example, pink ombre hair. But as a gaming influencer, her items aren't being purchased by fans for the physical world. Instead, they're for their Roblox avatars.
"They love makeup and they love dressing up, feeling like a princess," said Ashe of her fan base, which she estimates to be 60% female and 40% male. For their avatars, they can head to Ashe's virtual shop for pink wigs with e-girl headphones or hair accessories such as a pink halo or crown. Her beauty influence spans the real and virtual worlds. She does Roblox-inspired YouTube beauty tutorials, and when she unveiled her new brown hair color last month, she commissioned a designer to create a matching avatar hair that will be going live soon.
Ashe is among a legion of Roblox influencers who have long recognized the enthusiasm for beauty and fashion on the open-source game platform. More recently, brands have also taken notice. Following in the footsteps of fashion, beauty labels including Givenchy Beauty, hair-dye brand Hally and e-tailer Farfetch's new beauty section have become the category's earliest adopters for Roblox marketing. More than half of the game's average of 54.1 million daily active users are now older than 13, and brands see a metaverse marketing opportunity for reaching a growing audience of Gen-Z teens and young adults.

With Gen Z as its core customer group, Hally launched a Roblox campaign last week to celebrate the launch of its new e-girl-inspired "Gamer Girl" hair dye set of pastel pink, purple and blue colors. Targeted toward teens and those in their early 20s, the launch was timed to align with summer vacation. When kids get out of school, they buy more e-girl-inspired "fantasy colors," said Kathryn Winokur, founder and CEO of Hally. As part of the launch, it dropped a group of collectible hairstyles on Roblox that users could download for their avatars for 25 "Robux," the currency in the game. For the campaign, the brand is enlisting MeganPlays, a girly Roblox influencer with nearly 3.5 million YouTube subscribers, who will be featuring the hairstyles on her avatar from July 13-17 as she records and streams herself playing the game.
"A huge part of that [Roblox] avatar is the hairstyle, so it felt like there's this real authentic space for Hally to dip our toe" in Roblox marketing, Winokur said.
The prevalence of colorful e-girl hair on Roblox makes it a category that's ripe for marketing on the platform. In June, hair-care brand Sunsilk launched a virtual game on Roblox with five free virtual hairstyles to collect, which were also promoted by MeganPlays.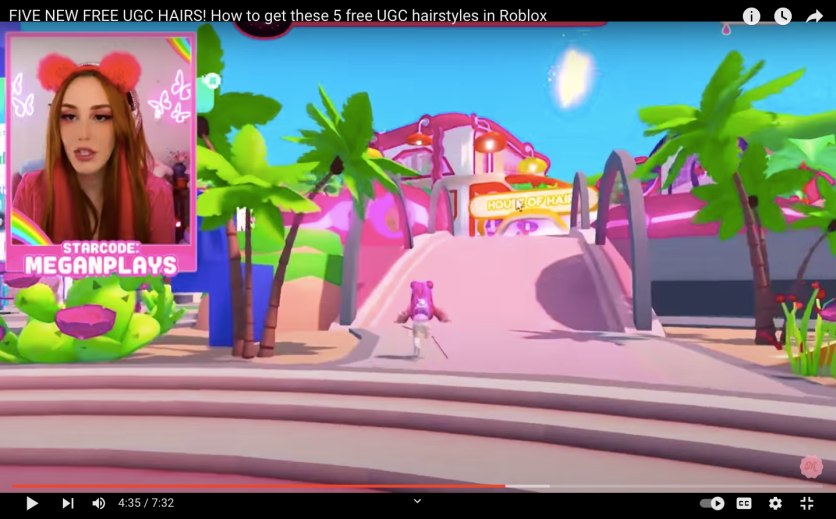 It's not just teen-focused brands getting in on Roblox. Luxury beauty has joined fashion labels already active on the platform, such as Gucci. When Farfetch launched its beauty vertical in April, it announced that it would work with gaming creators on avatars in Roblox and The Sims. During the same month, Givenchy Beauty unveiled an entire branded Roblox game, allowing users to wander around a virtual mansion party to dance, collect points and free accessories, receive a makeover for their avatar, and take photo booth pictures. The campaign had over 2 million participants.
"They want to be the first beauty brand" on the platform, said Edwin Sberro, creative director of creative agency Collectif Exhibition and founder of fashion and beauty magazine Exhibition, who worked on Givenchy Beauty's Roblox campaign. Having also worked on Givenchy Beauty's Animal Crossing and NFT campaigns, he added that the brand is prioritizing being forward-thinking with tech and on the pulse of pop culture.
To tap into the Roblox audience, brands are strategizing ways to launch activations that don't feel like advertising.
"There is a strong community on Roblox that is expecting something else from brands. They want authenticity. They want the brand to understand how the game is working. They don't want just basic advertising on the platform," said Corentin Picaut, co-founder of creative studio Like Fire, which also worked on the Givenchy Beauty campaign.
"Using a real game was a way for us to make sure the experience was interesting," said Picaut. "Our recommendation is always to give or propose a game where the players can just win the item" rather than purchase it, he added.
Roblox campaigns by major brands across categories have proliferated in the past year. Since going public in 2021, Roblox has been adding more features for brand activations to increase monetization opportunities. These include validated brand accounts and an immersive advertising system, according to its most recent earnings call.
Beauty brands' entry into the Roblox world comes as they've seen the marketing opportunity in gaming for women in recent years. They've sponsored esports teams, as well as activities and avatar looks on games like Animal Crossing and The Sims.
"There is a lot of bias in the gaming world that it's all men," said Winokur. "There's this huge variety of women and men, but [there are] a lot of women who game and many of them are interested in beauty."
Influencers like Ashe and MeganPlays are helping to highlight that connection.
"Any makeup brand should start coming into gaming and combining those two worlds, because there are a lot more women in gaming and also men who love makeup, as well," said Ashe. She said she just started getting PR packages from beauty brands in the past year, including Rare Beauty, Laura Mercier and Nyx Cosmetics.
"It was unexpected. It had always been a dream of mine to get PR from beauty brands. I had seen influencers doing that, so I was like, 'I guess you have to be a beauty influencer to get PR.' That's changing now," she said.
Beauty enthusiasts have long been active on Roblox, where they "chat about their beauty choices and makeup trends, they hang out in virtual beauty salons, and replicate their favorite in-real-life makeup on their avatars and vice versa," said a Roblox spokesperson. There are also beauty shopping experiences in in role playing experiences like Royale High, which includes a virtual Sephora-esque beauty store called "Sapphire," complete with the familiar black-and-white striped shopping bags.
While Roblox is known for being popular with kids, the age range is getting wider. In Q1, daily active users in the 17-24 age group grew by 6% in core markets, according to Roblox CEO David Baszucki on its most recent earnings call in May 2022. According to a Roblox spokesperson, this is its fastest-growing age demographic.
"The audience is getting older with the game," said Picaut.
Ashe, who is 28, mentioned that her audience is also getting older. She said this was especially apparent at VidCon with the age of fans that came to meet her.
"I was surprised because I thought [my audience] was mostly younger girls, but meeting people, [I learned] it's teenagers, as well," she said.
As brands prioritize metaverse marketing strategies, they're increasingly seeking out virtual worlds to showcase their products. Unlike metaverse startups like Decentraland and Sandbox, established games like Roblox, Animal Crossing and The Sims have time-tested fan bases that have been active for years. While gaming-related marketing was gaining popularity among brands before the metaverse craze, it's now regarded as a component of metaverse activity.
"When I was trying to understand the metaverse, I realized that we had already been in it. It's just a term that sounds more confusing," said Winokur.
Reading List
Inside our coverage
Glossy Beauty Podcast: Bubble's Shai Eisenman on creating the Gen-Z beauty brand of the moment
'There's still work that needs to be done': BIPOC beauty influencers continue to push for diversity
Steph Shep teams up with Snif for her first fragrance, Suganami
La Mer goes big on the skin barrier conversation with new Derm Collective
Too Faced and BoxyCharm partner on new sampling strategy with NFC tags
Beekman 1802 emphasizes the microbiome with new skin analysis tool
ScalpTok is the TikTok trend you can't look away from
Stories I'm reading
Sephora announces a permanent Russia exit.
People are ditching shampoo and washing their hair with pantry items.
Two men were hospitalized after being injured in a fire at Goop's Hamptons store.