As rave culture has taken off in beauty, hair-care brand Olaplex is getting on board with the movement via a TikTok challenge featuring hundreds of influencers and a well-coiffed DJ.
Starting today and running through August 21, Olaplex is holding its first sponsored hashtag challenge on TikTok with an original song by electronic DJ Felix Cartal. Cartal, who has 2 million Spotify followers, is known on TikTok for his viral unofficial remixes of hit TV shows' theme songs. Titled #OlaFlex, the challenge features before-and-afters, and is being amplified by a group of over 400 paid and gifted influencers with a range of follower count sizes. 
"What's exciting, from a creative perspective, is this challenge will see us experimenting with a variety of different industries. You have, of course, professional stylists, but also lifestyle, fashion, entertainment and music [influencers]," said Olaplex CMO Charlotte Watson. "We're tapping into these new verticals and audiences to further extend the reach on the platform."
Olaplex launched on TikTok in April 2020. Since its debut, it has amassed over 253,000 followers and 1.1 billion views "driven by the power of our community, engagement and UGC," said Watson.
"TikTok feels like a relevant place for us to play because we have so much organic resonance on the platform," she said.
The brand's social team has prioritized sentiment-watching on the platform, joining organic trends featuring the brand such as the viral Olaplex bun beauty hack that made the rounds in February. 
Since going public in September 2021, the company has logged double-digit sales growth each quarter, which has been attributed, in part, to its cult following on social media. 
Influencers selected for the #OlaFlex campaign represent a diverse range of talent, including members of the Sephora Squad and Ulta Beauty Collective, and the brand's salon owner partners. Some participants include TikTok influencers Honey B, Nando, Ruby Devine and Molly Holton.
Felix Cartal was selected for being "very much connected to popular culture and what's trending," said Watson, who added that Olaplex was searching for a "musician who had a really positive, upbeat, dance-y, uplifting TikTok style." An added plus for the brand: "He also has amazing hair."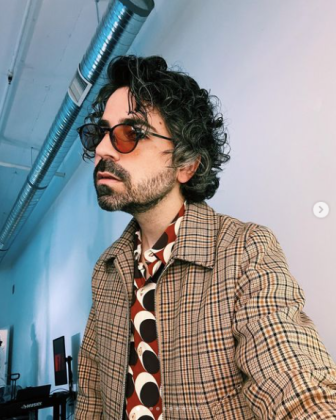 "Making a short song for TikTok was a great challenge. It reminded me of when Brian Eno made the Windows startup sound and it had to be 7 seconds. I loved working within the restrictions of a short piece of music and really having each beat emphasize what would work best in the challenge," said Cartal.
Cartal, who has made unofficial remixes of "Stranger Things" and "Euphoria" theme songs popular on TikTok, is the latest of several DJs partnering with beauty brands in 2022. As "Euphoria"-inspired rave style has seeped into popular culture and beauty, EDM artists have become more popular brand partners in the makeup world. For example, Peggy Gou has worked with rave-inspired eye decal brand Simihaze, while YSL Beauty featured DJ Kittens in its Push the Boundaries docuseries in May this year. 
While this campaign will be focused on short video, Olaplex will separately host weekly live shopping sessions on TikTok this month with its podcast host Danielle Frank. The brand has been amping up its live shopping initiatives, taking part in YouTube's beauty festival in June with a shoppable livestream. Facebook, which recently shut down its live shopping feature, mainly serves as a platform for the brand to connect with its private group of 150,000 stylists. TikTok, meanwhile, is all about a "hyper-growth audience," said Watson.
When it comes to social platforms, "we're always looking to diversify so that we're not reliant on one platform or one partner," she said.
"Our strategy from a social perspective has really been around community engagement," said Watson. "Our approach to social media, from early days, has been very much about establishing one-to-one relationships between our team, personal stylists, consumers and the influencers we're engaging with."