Amid talk of social media burnout, brands are searching for the next big platform to reach Gen Z. Two marketing veterans are coming out with a new app that they say is the answer.
This week, executives from the marketing firm TH Experiential are launching new social app RTRO, which they expect to enter the iOS app store this week, pending approval from Apple. Emphasizing a focus on mental health by omitting addictive algorithms, the app aims to become a new group chat hub. Its features include a private group chat section, a public section for brands and influencers to send messages to followers, and a ChatGPT integration. Drawing on their marketing background and beauty connections, the founders have attracted several beauty brands to the app including Loops Beauty and Alastin Skincare.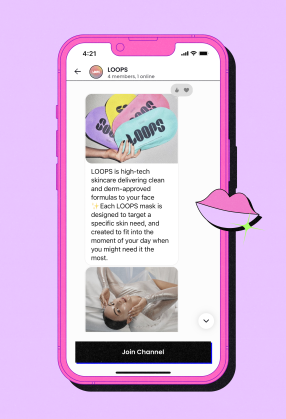 "We are seeing a trend that chat, texting and SMS are, for a lot of people, becoming a preferred way to communicate," said Nicole Falco, the app's co-founder and a partner at TH Experiential. "The feedback we've gotten from a lot of testing is that people have challenges organizing their communities over iMessage. And people like WhatsApp and GroupMe, but they'd like to move away from them."
Falco began conceptualizing the app along with co-founder Tristan Brennan, the co-founder and CEO of TH Experiential, during the 2020 pandemic lockdowns. Focused on creating pop-up marketing events for a roster of clients including Sephora and Benefit Cosmetics, TH Experiential quickly had to pivot to digital.
"We literally built an entire digital streaming app side of the business overnight," said Brennan. While RTRO is a separate company, the idea to dive further into digital by launching a new app came about from hearing from clients' frustration with marketing on existing social platforms.
"We are experiential designers. We started thinking, 'What if we took a stab at looking at social media through our lens?'" said Falco, who was previously the global director for consumer experience in creative strategy and design at MAC Cosmetics. She said she considers it an advantage that she and Brennan aren't "some Silicon Valley guys that are just developing an app with features."
"Because we're a marketing agency, we started thinking about brand problems," she said.
The app's private group chat section, called RTROCircles, allows users to create groups and share text, links, images and videos. Brands and influencers, meanwhile, can do the same in public channels on the feature called RTROTV, where they can send out content to followers in a DM format. Users can respond to public posts with likes. Users can also chat with an "Ask AI" account, which uses ChatGPT technology in a DM format.
The app is launching at a time of media discussion of existing top social media platforms collectively entering their "flop era," with Twitter facing upheavals, Instagram users expressing frustration about format changes and TikTok facing a potential ban in the U.S.
RTRO's format of separate private DMs and official accounts evokes the messaging functionality of China-based super-app WeChat, which Falco became familiar with while working at MAC Cosmetics. The concept of a WeChat-inspired super-app in the U.S. market has long intrigued top U.S. tech founders, and is also part of RTRO's ambitions, she said.
As for the AI component, the jury is still out on how Gen Z will take to an automated private chat companion. After Snapchat rolled out its own "My AI" feature last week, it was flooded with one-star reviews by users frustrated with seeing the virtual character automatically pinned to the top of their chat pages.
The ChatGPT integration in RTRO is positioned as more of an information source than a virtual friend, and Brennan said the goal for Gen Z is to show that it can be used for more than "just cheating on their term papers."
"It's encouraging them to get back into their life by using this," said Brennan. The platform will send prompts each Friday to encourage users to ask the chat for suggestions on what to do over the weekend such as restaurant or activity recommendations.
Beauty brands with public RTRO accounts include Loops, Joah and Kiss Beauty, while Alastin Skincare will use the app's private chat feature to connect with its skin-care professionals, launching a group at its esthetician summit on May 4. Kiss Beauty will also be launching a private group-chat channel. Myvana Haircare and Halo 42, the brand founded by former Armani Beauty celebrity makeup artist Tim Quinn, are also joining the app.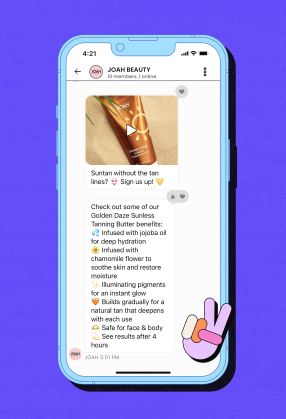 "As a brand, we're motivated by new and authentic platforms where we can connect with this audience and create community," said Meg Bedford, CEO of Loops. K-beauty brand Joah, meanwhile, is interested in targeting zillennial and millennial consumers. "As we continue to build brand awareness and community in the U.S., RTRO is where we can organically connect with this demographic and directly engage them without ads or algorithms. The platform aligns with our brand values, and the design aligns with our aesthetic," said Donna Pizzurro, Joah's director of brand marketing.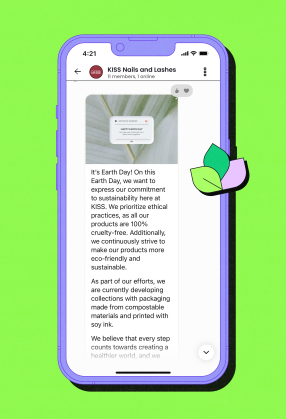 The app is also launching with 45 influencers who have a total reach of over 5 million users on other platforms. They include Sophia Schiaroli (@soso_swag; 54,000 TikTok followers) and Melodie Perez (@diaryoftroubledskin; 140,000 Instagram followers). Falco said that influencers are not being paid to join or post content about the app, and it is currently not running any advertising to attract users.
"I see potential in RTRO as more controlled method of communication between creators and their fan base," said Perez. "Sometimes direct messages and comments can get overwhelming to respond to, but RTRO provides a space where creators can set apart a certain time to actively engage."
For now, the company is not pursuing monetization, and brands can join for free. A monetization plan will be developed in the future and will include social commerce via a video feature set to roll out in the RTROTV section, which Falco described as "algorithm-free content channel surfing."
As social media algorithms have also been criticized in recent years for their impact on teens' mental health, the founders are emphasizing the app as a mental health-friendly option for young people. This ties into the branding, which is meant to reference a pre-algorithm era.
"It is basically tapping a bit into that nostalgia piece that we know is very popular and trending right now," said Falco. "The plan is to take people back to a time where it's just about connecting; connecting with people and connecting with great content."