In 2014, Oscar-winning actress Lupita Nyong'o became the brand ambassador for Lancôme. As the 88-year-old French luxury brand's first-ever Black ambassador, the star has appeared throughout the years in glamorous ads for its products, including its flagship Teint Idole Ultra Wear foundation.
Three weeks ago, Nyong'o starred in an ad for Lancôme's reformulation of Teint Idole alongside Zendaya and Lily Collins. Her typical shade — Ultra Wear Suede C555 — has been renamed to C540, according to the new foundation's packaging. But C540 isn't just the replacement for Nyong'o's shade. It is listed as the alternate for a total of three separate deep shades that existed under the old formulation.
This change gained attention online after TikTok influencer Sarah Lugor (2.5 million followers) posted a May 19 video stating that Lancôme had sent her a PR package with a shade that was too light for her skin. She pointed out that the shade she had been using since she was 14 years old — Suede C560 — was no longer available on the site. C540 is listed in the brand's PR materials to be the replacement for Lugor's shade, but she said in a Twitter post that it isn't a match.
"It reminded me of how I felt when I was younger and all my friends wanted to do makeup, and I was the only person who couldn't find anything that was my shade," she said in the TikTok video, noting that she had been excited to find the color years ago after a MAC Cosmetics shade she used had been discontinued.
Following the game-changing launch of Fenty Beauty in 2017, industry standards for inclusive shade ranges have shifted. Teint Idole, for example, had 28 shades when Nyong'o became brand ambassador, while it has now reached 50. But Lugor's video touched a nerve, sparking online discussion by consumers saying they face ongoing issues with deeper shades being discontinued.
The video went viral, earning over 803,000 views and causing users to call out Lancôme in comments and videos on TikTok and Instagram. Lugor received supportive comments from other beauty influencers such Abby Roberts, who posted, "I hope they see this and fix it!" On Twitter, skinfluencer Tiara Willis shared her video, stating, "I can let you know firsthand this happens all the time." Several of Lugor's followers said that they also used the shade, while commenters on Willis' Twitter thread shared stories of experiencing discontinuations with shades from other brands.
Lancôme responded by calling Lugor to apologize. She said in a May 26 update video that the brand had added the product listing for its old formulation back on its site and told her that her shade and "any other shades that might be missing in their relaunch are going to be relaunched by the end of this year." Lugor was not available for comment.
According to a Lancôme representative via email, "As a brand, we are committed to diversity and inclusivity and are constantly working with our scientists and makeup artists to optimize our shade assortments. We have always planned for a two-phased launch where phase one with 50 shades is available now and additional shades will be available in the coming months. With our new formula, all shades are developed with new shade numbers. As we always do with a reformulation, we offer the existing shades while supplies last on Lancome.com."
"I've never seen anything like that," said Desiree Reid, founder of beauty consultancy Desiree Reid & Co. and former general manager at Iman Cosmetics. "I know that when L'Oréal did reformulations in the past, they reformulated certain shades first. They then go back and bring in some other shades. But I've never heard of any brand having a new formulation, removing the old [formulation from sales channels] and then bringing it back. To me, that sounds kind of weird."
A photo of a PR booklet on the relaunch shared by Da'Livia Banks on Twitter showed that none of the new shade numbers correspond to the old ones. Along with 555C and 560C, 550C was replaced by 540C (this guide formats the shade names with numbers before letters).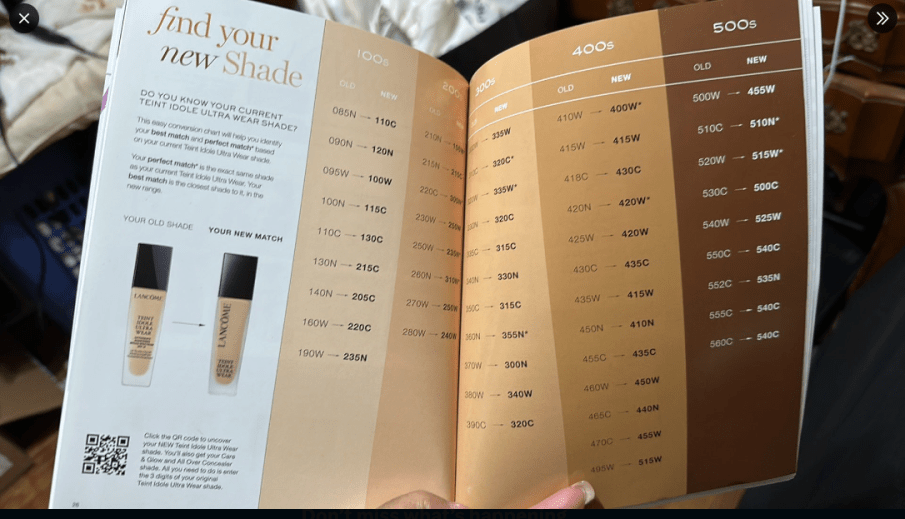 Apart from the shades in the brand's 500 range, a few others are used to replace multiple shades. 320C is listed as the replacement for three shades and 335W is for two shades in the 300 range, and 420W is given for two shades in the 400 category. In the lightest category (100s), each old shade has a distinct new replacement number.
A similar guide on the Canadian brand website offers some slightly different shade replacement recommendations. The printed PR book and shade-finder tool on Lancôme's U.S. website, for example, both say that 525W is the new replacement for 540W. The Canadian guide says that for 540W, 530W and 525W are each a "similar shade but not perfect match." In the printed book, it says that 415W is a replacement for 435W, but the Canadian guide recommends 420W as a similar replacement.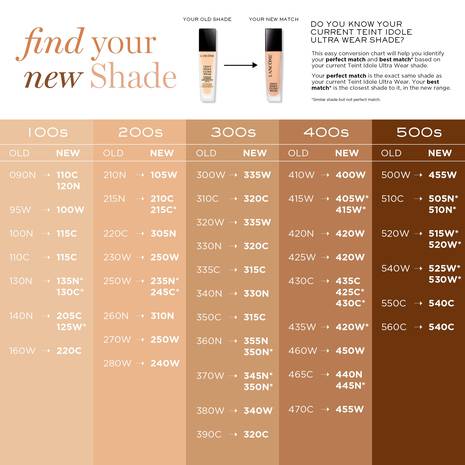 Nyong'o appeared in a campaign for the old formulation of Teint Idole Ultra Wear in February 2022 wearing Suede C555, which is not listed on the Canadian guide. For the Met Gala in 2021, a post about her makeup look on Lancôme's website says she wore a mix of "shades 550 and 555," with 520 under her eyes.
"It's always sales. It's always going to be the numbers," said Reid of why brands discontinue shades, adding that this should not be an excuse for not having an inclusive shade range.
She noted that although some shades sell better than others, "People buy other things" from a brand when it carries their correct foundation. "When she's not shopping her foundation, she's not shopping you at all," said Reid of the typical customer.
Discontinuing an existing foundation shade can be especially detrimental to the brand due to the disappointment and frustration it causes with loyal customers. "[Changing a] foundation is sensitive because it is difficult, especially for women of color with such a vast range of skin tones, to find their shade."
"Every brand has to have an inclusive shade range," said Reid. "If you don't have an inclusive shade range, if you're trying to reach a broad base of customers, you're in trouble."
It has become common for beauty influencers and online commenters to call out brands for lack of inclusivity on their foundation shade ranges, and several companies have responded over the years by stating more shades were planned for an unspecified future date. In 2016, fellow L'Oréal Group-owned brand L'Oréal Paris was criticized online for a lack of inclusivity in a new foundation shade range. As a result, the brand announced that it would have new shades coming soon. Tarte had a similar response to criticisms in 2018.
The rise of social media and influencers speaking out about shade ranges "makes us all accountable for what we're putting out there, and the information or lack of information that we're putting out there, for all of the customers to see — especially multicultural customers and diverse customers," said Reid.