Out of work both in the film studios and on the red carpet, Hollywood's makeup artists and hairstylists are siding with the creatives on strike.
As a result of the SAG-AFTRA and WGA strikes, celebrity makeup artists' bookings have been canceled for film and TV shoots, red-carpet events and press days. Studio executives like Disney CEO Bob Iger have criticized the strikers for the fact that the "supportive services" like hair and makeup can't work while filming is shut down. But many makeup artists and hairstylists are expressing their support for the strikes, as they have felt the financial squeeze and anxiety driven by the forces in the industry also affecting writers and actors. These include the effects of streaming and the potential for the uncompensated use of their intellectual property through AI-generated digital likenesses.
"My calendar just cleared out completely for the rest of the foreseeable future, which is definitely alarming. I don't really know what's going to happen, and I don't think any of us do. And just coming out of a pandemic, it's terrifying," said makeup artist Rachel Goodwin, who does red-carpet and editorial work for clients including Kate Mara and Emma Stone. But she has made it clear which side of the negotiating table she places the blame on: the executives.
After the announcement of the SAG-AFTRA strike, Goodwin posted on her Instagram, "I stand with @wgastrikeunite @sagaftra. Corporate greed won't win this time."
With regard to the widening gap between executive pay and creatives in the entertainment industry, "The disparity is too huge," she said. "That's why we're here. That's why this is happening for the first time in 63 years. Creatives have to stand up." In June, Netflix shareholders rejected a proposed pay package of $40 million for co-CEO Ted Sarandos and $34.6 million for co-CEO Greg Peters.
The rise of streaming platforms has been a major focus of the strike demands for both writers and the actors, who have seen lower residuals from streaming platforms. But streaming has also had an impact on makeup artists' incomes.
"When streaming studios came into play, the day rates for getting somebody ready have gone down tremendously. They're kind of just like, 'This is what you get, and if you don't want it, there are a million other people who will do it,'" said celebrity makeup artist Jamie Greenberg, who has done red-carpet, promotional and editorial looks for clients including Rashida Jones, Kristen Stewart and Elisabeth Moss.
One celebrity makeup artist who wished to remain anonymous said that streaming services including Netflix typically pay makeup artists $500 a job before taxes for premieres. Twenty years ago, that number was $2,500 for major studios. In addition, agent fees of 15-35% are increasingly being taken out of the makeup artists' rates rather than being added on by the studios.
"I blame the studios" for the ongoing strikes, she said. "If they had just given what the actors and the writers needed, then it would have been fine. … A lot of them probably are vacationing somewhere right now."
"The streaming services came in and tried to run Hollywood like a tech industry," said Goodwin. "For us as makeup artists, they came in and they eviscerated our industry long ago, and we had to take it because we don't have a union. We had to get our rate slashed to a quarter of what we were used to making and our worth basically completely demeaned and reduced to nothing."
Without a union, there is little recourse for the freelance makeup artists that work on public appearances as rates go down.
"We have no union, so it only gets worse for us if things start to change in a bad way," said Greenberg.
Among the unionized Makeup and Hair Stylists Guild IATSE Local 706 artists that include those who work on TV and movie sets, there has been near-universal support for going on strike. In 2021, they were among the 36 local unions in the International Alliance of Theatrical Stage Employees that authorized a strike with 98.7% of members in favor. The strike was averted when the IATSE ratified an agreement with the Alliance of Motion Picture and Television Producers (AMPTP) in November 2021.
While the IATSE contract is not up for negotiation until 2024, the organization joined with other unions to express solidarity with SAG-AFTRA in their decision to strike. Several comments by union makeup artists on the Makeup and Hair Stylists Guild's Instagram expressed support for the idea of going on strike. "We should have been allowed to strike," read one comment.
Camille Friend, the hairstylist for Halle Bailey in "The Little Mermaid" and hair department head for "Black Panther," posted on her Instagram account, "The AMPTP refused to make a fair deal on television, theatrical and streaming work. We are not afraid of a fight and we will not back down. My union, SAG/AFTRA is now on strike."
"The streaming companies said that they were not making a lot of money. … Well, in the three years that they said they're not going to be making much money, they made a ton of money," said Karen Westerfield, the business representative of Local 706 and its MUAHS Awards.
While set makeup artists do not receive residuals, they are also feeling the financial pressures of streaming.
"Our rates are determined by the budgets of those projects. And the streaming services are notorious for saying, 'We have no money,'" said Claire Alexandra Doyle, a makeup artist in the union and its craft education coordinator.
Hair and makeup also factored into the SAG-AFTRA negotiations. A document released by SAG-AFTRA on the negotiation status listed demands for hair and makeup equity, calling for a requirement that hair and makeup artists on set be able to handle a variety of skin tones and hair types and provide consultations beforehand. The document said that the AMPTP tentatively agreed to do so only for principal actors and "refused to mandate it."
With a creative job heavily focused on physical work, makeup artists also share writers' and actors' concerns about the effects of the use of AI digital likenesses. They point out that AI replication would be different from digital animations, which often still use the creative services of makeup artists in collaboration with the tech side.
"Once you start duplicating actors, you don't need your actors. You don't need your costumers. You don't need your makeup. You don't need your hair. You don't need your stunt coordinators," said said Doyle.
Makeup designer and guild member Erika Okvist, who worked on "Bridgerton," posted on her Instagram Stories a hypothetical situation that indicated how devastating the use of digital likenesses could be to makeup artists' careers. She noted that replacing background performers with digital likenesses could mean that crew members would not only lose work, but they would also not meet the number of hours needed to qualify for IATSE health insurance if multi-month projects transformed into one-day gigs on film sets.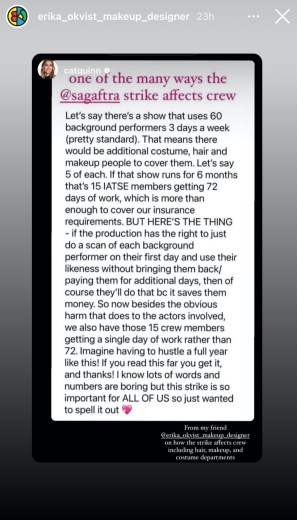 "With AI, they basically could say, 'We don't need to do hair and makeup because we could generate it through AI.' And then, basically, we're completely out of jobs," said Camara Aunique, who works with clients including Tracee Ellis Ross and Angela Bassett.
As for the future of the Local 706 negotiations, Westerfield said she could not predict what will happen.
But union makeup artists have already shown unprecedented support for striking. The 2021 IATSE vote was the first time in the organization's 128-year history that it had voted on a nationwide strike.
"It's a domino effect. The first domino, just based on the timeline, was the writers' contract expired first," said Doyle. "We're going to be that next domino down the road. Everything that they're trying to fight for — the integrity of our work and services — that is something that's going to affect us, as well, with our contracts."
Makeup artists are hoping for a quick resolution in order to return to work. But they believe it is up to the AMPTP to agree to the strikers' demands.
"My genuine hope would be that it becomes more equitable and that these streamers who are profiting in incredible ways realize the value of the creatives that make their services run and are not replaceable. And [I hope] that they see that they are fairly paid, so that they can earn a living and live quality lives," said Goodwin. She added that a recent quote in entertainment news site Deadline by an anonymous executive that stated the "endgame" for the AMPTP is for "union members start losing their apartments and losing their houses" was "disgusting."
"I hope everybody that is a laborer gets paid for their labor and in a fair way. Times have changed. Contracts need to change. That's just the way it goes," said Greenberg. "People need to be compensated for their work in the correct way. The same people can't just be making all the money. I'm hoping that people see that and see how paralyzed this entertainment business becomes by not doing that for these people."