Over three years after first going viral on TikTok, Revlon's One-Step Hair Dryer is the most-talked-about hair tool online, according to recent Launchmetrics data.
The $40 dryer brush came out in first place ahead of the second-place Dyson $600 Airwrap styling tool, showing its ongoing appeal among price-conscious beauty consumers.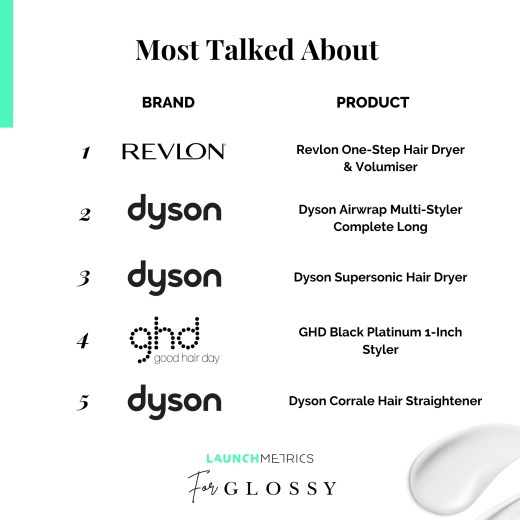 The ranking for the month of July was provided exclusively to Glossy using media impact value (MIV), a proprietary Launchmetrics metric tracking the impact of influencers, print media, celebrities, official third-party partners and a brand's own media channels.
"The growing popularity of airflow styling tools made Dyson most certainly a fan favorite at the luxury price point, while cost-effective alternatives like Revlon have captured the attention of consumers seeking salon-quality effects at a more affordable price," said Alison Bringé, CMO at Launchmetrics.
Revlon's hair dryer took off among Gen Z TikTokers in 2020 and maintained staying power, becoming one of the top overall best-sellers on Amazon for Black Friday 2020 and remaining a No. 1 beauty best-seller on Amazon into 2021.
The luxury Dyson Airwrap, meanwhile, has also driven an online craze in recent years and was the most popular product sold by LTK influencers in 2022. Dyson's other hair products are gaining buzz, as well, as its hair dryer and straightener were also among the top 5 on the list.
The Dyson Airwrap is a top-searched product and is frequently paired with the term "dupe," according to Google data. A longtime focus of beauty vloggers, dupes have become especially compelling for price-conscious consumers thanks to inflation and viral TikTok trends. While not an exact dupe to the Airwrap, the Revlon brush is often compared to the device in TikTok and YouTube beauty influencer videos.
Though priced at a premium, the Airwrap could be considered a bargain if used to replace regular blowouts. Its popularity reflects consumers' investment in DIY beauty, according to Launchmetrics.
"In today's post-Covid world, the concept of at-home beauty treatments, from facials to manicures and even blow-drys, has grown significantly," said Bringé. "With the rise of self-care, achieving a professional blowout effect at home has become a necessity, paving the way for new hair tools to take the market."