Known for its "Euphoria"-inspired eye gems and sparkly color cosmetics, Emmy-winning makeup artist Donni Davy's Half Magic Beauty announced a new funding round on Tuesday led by Alliance Consumer Growth.
The undisclosed amount will give ACG a significant minority stake and be used to fund the brand's expansion to an upcoming brick-and-mortar retail partner. The round also includes significant participation from "Euphoria" production company A24, Imaginary Ventures and Access Entertainment. The brand is projecting 300% year-over-year growth in 2023.
A24 maintains its majority stake in the brand that it has held since Half Magic was launched in 2022 with "Euphoria" makeup department head Davy and the show's creators. The brand's range of makeup products evokes the ethereal and shimmery beauty looks that Davy created for Zendaya, Hunter Schafer, Sydney Sweeney and other stars as the show's makeup department head. Products in the brand's lineup include the stick-on face rhinestones that became a "Euphoria" signature, a line of colorful eye paints with both matte and sparkly shades, and an eyeliner with an applicator tool to create a sharp winged look.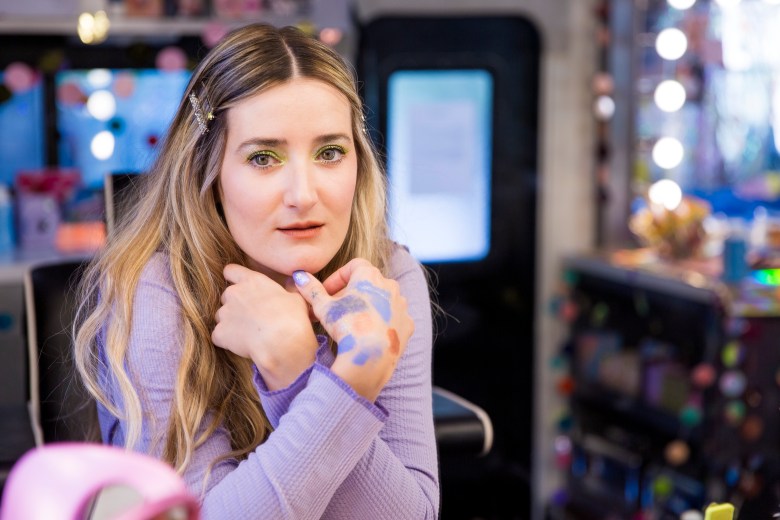 Davy said in a May 2023 interview at DragCon that the unnamed retailer partner would be announced in August and that the brand had new product launches and shade extensions of existing products in the pipeline. She said her products aim for a "dopamine kind of effect."
"Half Magic is the answer to countless DMs asking me how to layer glitter and color," said Davy in a written statement about the new investment round. "I wanted to provide fun, user-friendly products and tools all in one place for people to not just create the looks I'm known for, but also to bring a little sparkle and joy into every day."
"The funding will help the brand drive further awareness with key talent partnerships, as well as prepare for a retail launch in the U.S. later this year. We expect these initiatives to prepare the brand for high growth over the next 24-36 months," said Michelle Liu, general manager at Half Magic Beauty.
ACG's beauty investment portfolio includes Innbeauty Project, NudeStix and Pacifica, while several portfolio brands have been acquired: Tata Harper secured a successful exit to Amorepacific Group in 2022, Ouai was acquired by Procter & Gamble in 2021 and Milk Makeup was acquired by Waldencast in 2021. The company invests in a range of consumer goods companies that also include Skims, Good American, Lola, Superordinary, Harry's, and Shake Shack. 
"Some of the most successful brands in beauty over the past couple of decades and beyond have been practitioner-led artistry brands," said Julianne Kur, principal at ACG. "When we think of Half Magic, we really think they're creating the artistry brand for Gen Z, with Donni really being that credible artist."
Julian Steinberg, managing partner of ACG, said in a written statement, "It is with great enthusiasm that we join forces with the exceptional management team to revolutionize Gen-Z beauty and become this generation's leading artistry beauty brand. Together, we aim to disrupt the market and redefine what it means to express oneself through makeup."
The role of A24 in the brand was also attractive to investors.
"ACG was really excited to partner with A24," said Kur. "They, in and of themselves, have built this iconic brand that is probably the most influential entertainment brand of this generation." In addition to "Euphoria," 11-year-old A24's roster of over 110 films and 30 TV shows includes Academy Award-winning film "Everything Everywhere All At Once," "Beef" on Netflix, "Hereditary," "Moonlight," "Lady Bird," "Uncut Gems" and "Spring Breakers."
"Euphoria" beauty looks are especially popular on TikTok, where #Euphoriamakeup has received over 2.5 billion searches.
Beauty investments have decreased in the past year as tech-focused VC firms have turned away from DTC consumer goods brands. But for consumer goods-focused investors like ACG, interest in beauty is still strong, said Kur.
"We're certainly still making a lot of investments, and a lot of great brands get investments," she said. "There's probably a natural narrowing; people are being a little bit more risk-averse, maybe waiting for a little bit more proof points before putting a lot of capital to work. But there's always going to be capital available to growing brands that are hitting on real trends and really connecting to a next generation of consumer."