Actress Tessa Thompson may have been named Armani Beauty's brand ambassador this year, but her use of the products goes way back, she said at a Thursday evening brand celebration.
"As a consumer, I had such a hard time finding foundations that worked for me when I first started working. I really struggled," she said. And after using the brand's foundation for one of her first big premieres, "I would take those bottles around every time I worked on sets and help people because they wouldn't be able to match my color," said Thompson.
On April 28, Armani Beauty celebrated the "Westworld" star as its newest brand ambassador with a party at Culver City-based restaurant Vespertine, along with other celebrities and brand executives.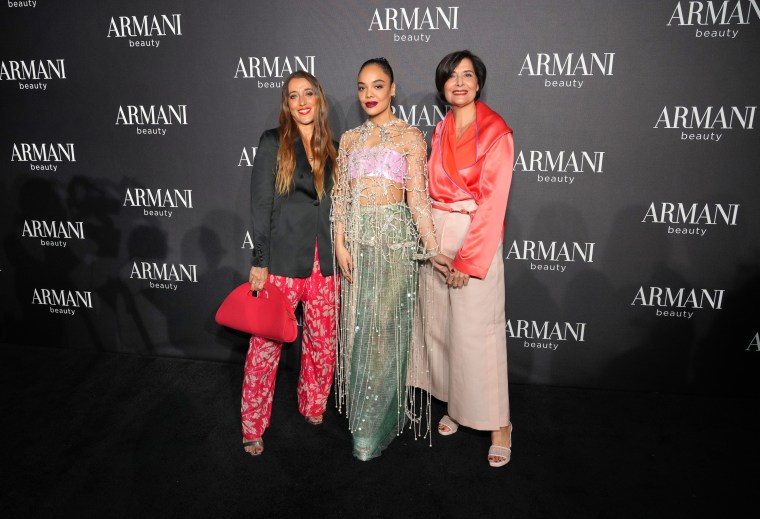 Wearing an intricately beaded gown from Armani Privé and a full face of Armani Beauty makeup, Thompson discussed the significance of brands working with a diverse range of spokesmodels.
Stars also in attendance at the celebration were Maude Apatow, Jurnee Smollett, Gavin Leatherwood, Ava Phillippe and Noah Beck. Armani Beauty executives Silvia Galfo, gm of Armani Beauty, and Veronique Gautier, global president of Armani Beauty, were on hand to toast the new ambassadorship. At the event, guests tested out shades of the brand's lipstick, as well as tried out virtual shade-matching on iPads set up in a special beauty lounge.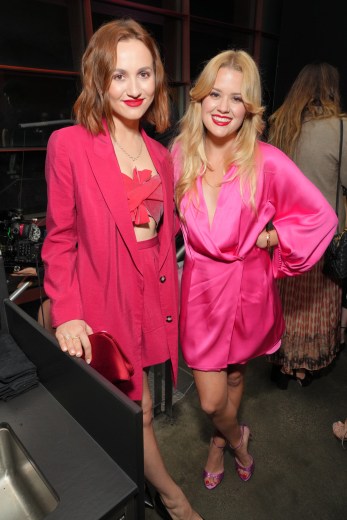 Since being named brand ambassador in January, Thompson has appeared in campaigns for the brand's Luminous Silk Foundation and Lip Power lipstick.
"The faces of beauty brands tell us a lot, culturally, about what we celebrate [and] what kind of beauty we celebrate. For so long, growing up, there were not a lot of brands where I could see images that felt like they reflected me," said Thompson. As Armani Beauty's newest ambassador, Thompson aspires to "be a face for some folks to go, 'Oh, there's someone who looks like me.' I know what that would have meant to me when I was younger, combing through magazines."
Thompson also discussed how her beauty routine has changed in the pandemic.
"I'm just trying to learn more about and pay attention to my skin," she said.
"Having the time during the pandemic and not wearing makeup, I also learned so much, particularly because I wear makeup a lot professionally, about what I need to do to counterbalance that to make sure my skin is healthy and happy," Thompson said. She also "got into gadgets" and is "learning to gua sha."
As a queer woman of color with starring roles in blockbuster Marvel films, Thompson has been described as a trailblazer in the film industry. She has been outspoken on social media and in interviews about issues relating to queerness, race and feminism. For example, she made waves several years ago when she publicly stated a scene was cut showing her character Valkyrie was bisexual in "Thor: Ragnarok."
"She represents a radiant, young, powerful woman with a lot of talent, of course, as a producer," said Galfo.
Thompson's favorite recent movie glam experience was the makeup looks for the 2020 film "Sylvia's Love," which is set in the 1950s and '60s. "Those looks were really fun," she said. The film's beauty department used Armani Beauty to create looks with "a lot of blush" and "really fun wing liners."
"I just feel so lucky to get to work with so many talented artists. I'm a novice, when it comes to applying makeup myself, but I relish the opportunity to learn more from the folks around me," she said.